Schedule Garage Door Opener Installation Near Nampa, ID
Haney Door Service offers fast, convenient garage door opener installation in Nampa, ID to upgrade your garage door system. Because openers control all the automatic functions of your overhead door, you need a garage door opener that is strong, reliable, and built to last. We've partnered with industry-leading brands, Liftmaster and Genie, to sell and install the best garage door openers on the market.
If you'd like to learn more about garage door opener installation near you or explore product options, we'd love to help. Contact Haney Door Service for fast garage door service you can trust. We serve the entire Treasure Valley community with garage door opener installation and replacement.
Advantages of a High-Quality Garage Door Opener
Quiet door operation with belt and direct drive openers
Energy-efficiency with LED lights and standby mode
Improved safety with emergency stops, motion detection lights, and more
Enhanced security with rolling codes, security lighting, and surveillance cameras
Added convenience with smartphone and Wifi connectivity
Increased home value with updated opener models
New Openers from Top-Rated Brands!
Popular Garage Door Opener Types
With so many varieties of garage door openers available, it can be difficult to know which one will work best with your home. Some of the most popular garage door opener types we install include:
Chain Drive Garage Door Openers
Belt Drive Garage Door Openers
Screw Drive Garage Door Openers
Wall Mount Garage Door Openers
Jackshaft Garage Door Openers
Wifi Garage Door Openers
Smart Garage Door Openers
Quiet Garage Door Openers
If you're in the market for a new garage door opener, we'd love to help you make the best choice for your home. Maybe you have a heavy wood garage door that needs maximum lifting power. Let's discuss options for heavy-duty chain drive or wall mount options. Do you need a quiet garage door opener to silence your noisy garage door system? We can help you select a belt drive garage door opener with smooth, quiet operation.
Whatever the goals of your new garage door opener installation, Haney Door Service is here to help. Give us a call to set up your appointment today!
Our Garage Door Opener Brands
LiftMaster Garage Door Openers
LiftMaster Garage Door Openers is a household name across America. Homeowners love their wide selection of long-lasting and easy-to-use products for garage door opener installation. We highly recommend their chain drive, belt drive, and wall mount garage door openers. LiftMaster also has the leading option for smart garage door openers with LiftMaster myQ, allowing you to operate your garage door from your smartphone.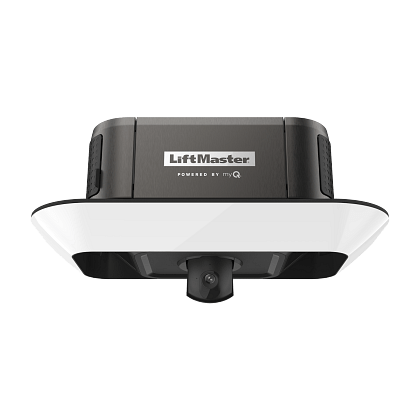 Genie Garage Door Openers
Genie Garage Door Openers are another popular national brand with a great reputation for quality, long-lasting products. They offer a versatile range of opener models, including belt drive, chain drive, screw drive, and wall mount. With their great products, you'll have no trouble finding a great option to upgrade your home with garage door opener installation. They also have WiFi garage door openers through the convenient and easy-to-use Aladdin Connect.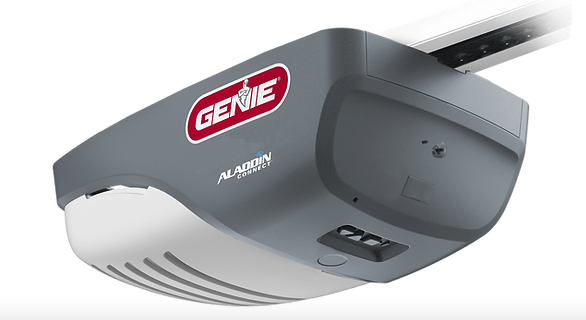 Professional Garage Door Opener Installation Near Nampa, ID
A professional garage door opener installation with Haney Door Service guarantees a successful, stress-free experience. Some homeowners consider cutting corners and attempting DIY opener installation, but the truth is, this rarely ends well. The skills and knowledge needed to fully understand the process and protocols necessary to ensure a garage door opener is fully functioning come with years of professional garage door experience. Our team can be trusted to provide exceptional service with over 30 years of serving Nampa, ID and the surrounding communities with unmatched garage door service.
Our team focuses on safety during garage door opener installation and making sure our customers are well-versed in the opener's safety features. We will perform tests to ensure your opener is aligned and balanced. We will not leave before showing you how to operate the emergency release mechanism. We'll walk you through how to operate the unique features your opener comes with, and answer all of your questions. Contact us today to get started!
Frequently Asked Questions
How long do garage door openers last?
Garage door openers can last 15-25 years, depending on the drive type and your maintenance routine. To get the best lifespan out of your garage door opener, invest in a quality product from Liftmaster or Genie and schedule yearly maintenance for your entire garage door system.
What are signs I need garage door opener replacement?
Your garage door opens by itself.
Your garage door has unreliable opening and closing.
Your garage door opener is 20+ years old.
Your garage door makes unusual noises.
You need frequent garage door opener repair.
What is a smart garage door opener?
Smart garage door openers have WiFi connectivity and feature new technology with many benefits. Most importantly, these openers connect to your smartphone, allowing you to monitor and control the garage from anywhere. Smart garage door openers also have built-in safety features, LED lighting, and automatic locks to protect against forced openings.