Looking for New Garage Door Installation in Nampa, ID?
Investing in a new garage door is a big decision. It will impact the value and look of your home. That's why you need a top-rated local garage door company to guide you through choosing the best new garage door. Haney Door Service provides garage door installation in Nampa, ID, sourcing products from leading brands and offering workmanship backed by 30 years of experience. Contact us to book a free new garage door consultation and learn more about how we can serve your home.
3 Reasons to Partner with Us for New Garage Doors
Best Price Guarantee
Like most companies, our pricing is dependent on a few key factors which include things like the cost of labor and materials. However, our community-focused customer service is something that we will never quantify. We believe that better quality equals better service, and this combination makes us extremely hard to beat when it comes to getting the most bang for your buck. But we don't stop there. We know that being the best local garage door company is about more than great service. That's why we go above and beyond our competitors to offer you a great deal on garage door installation with our best price guarantee. This means we'll match the product or service price of any competitor, every time.
Workmanship Backed by 30 Years of Experience
Our team of garage door experts brings you workmanship backed by 30 years of industry experience. Haney Door Service is a company that has been passed down through generations. That means that we not only operate on current industry knowledge but on the knowledge of our predecessors. During our tenure, we've mastered the basics and kept our finger on the pulse of modern innovation. No matter the issue or unique needs of your garage door system, we have the skills to give you the best outcome.
Products from Leading Brands
We have seen and installed hundreds of garage doors over the course of our time in this industry. We have witnessed leading brands navigate changing trends and re-engineer materials to be more user-friendly and adapt to the needs of the current consumer. And we have been there every step of the way learning and adapting right alongside them. This experience leads us to offer only the best new garage door products to upgrade our customers' homes. It has also encouraged us to continually train, upgrade our techniques, and elevate the way we approach garage door installation. We sell and install great new garage doors from Amarr, Martin, and Northwest.
We Also Offer Garage Door Opener Installation
Having an upgraded, great-looking new garage door means nothing without a quality garage door opener to operate it. That's why we offer garage door opener installation alongside new doors. With products from leading opener brands, including LiftMaster and Genie, we'll have your new garage door running like a dream for many years to come. Contact us to explore options for a new garage door opener installation in Nampa, ID.
Turn Heads With Your Stunning New Addition
Garage door installation is something to smile about. Not only does it benefit you, but it beautifies your community! Consider some of the amazing personal and community benefits of your new garage door installation.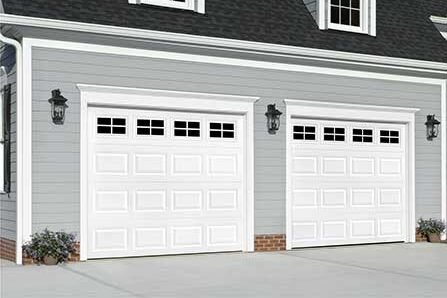 Increased Property Value
Increased Curb Appeal
Added Neighborhood Wow Factor
Encouragement To Invest In Neighborhood/Community Beautification Projects
Invokes a Sense of Pride
Attracts More Visitors and Interested Buyers
Enhances the Welcoming Feel of Your Neighborhood
Schedule Service with the Best Local Garage Door Installers
As top-rated local garage door installers in Nampa, ID, we are committed to providing the best outcome for your home. Whether you have an aging garage door that needs an upgrade or garage door damage has left you needing a new door, Haney Door Service is here to serve you. We work with leading brands, including Amarr, Martin, and Northwest, to bring our customers a wide range of quality products.
If you're interested in learning more about new garage doors or if you're ready to schedule your garage door installation, give us a call. We would love to help you start your journey toward upgrading your home with a free new garage door consultation.
Frequently Asked Questions
What garage door materials are available?
Depending on the unique needs of your home – including style, desired maintenance, and longevity – we can recommend the best garage door material for you. The most common garage doors that we sell and install include:
Steel Garage Doors
Glass Garage Doors
Wood Garage Doors
Faux Wood Garage Doors
How can I learn more about garage door installation?
The best way to learn more about garage door installation in Nampa, ID is by scheduling an appointment with us! One of our expert technicians will come to your home for a free consultation, walking you through your options for new garage doors with samples and brochures. Contact us today to schedule your appointment!
How do I know it's time for a new garage door installation?
Toward the end of your garage door's lifespan, you'll start to notice issues that indicate it's time for a new garage door. These include:
Your garage door is 20+ years old.
Your garage door is severely dented or damaged.
You want to upgrade the look of your home.
Your garage door needs frequent repairs.
Instead of battling an aging garage door, let us help you explore options for new garage door installation in Nampa, ID. Call now to book your free consultation!
Do you offer garage door installation for commercial properties?
Yes! We do. Please give us a call to ask about commercial garage door installation opportunities. We'd be more than happy to service your business location near Nampa, ID, and surrounding service areas.