Offering New Garage Door Installation in Nampa, ID
Searching for new residential doors can be a difficult process, especially if you don't know where to start. But Haney Door Service is here to help! We offer a wide range of product options, including garage doors from the leading brand, Martin Garage Doors. Check out their incredible collection below, and give us a call to learn more about how we can serve you with garage door installation in Nampa, ID, and the surrounding areas.
Why We Love Working with Martin Garage Doors
We love working with Martin Garage Door because they offer a unique and versatile product line that meets the needs of any homeowner. From glass to wood composite to steel or copper, Martin Garage Doors truly allows you to design the new garage door of your dreams. Beyond just the great appearance, however, we love the quality and durability of their products. They've been in the business since 1975, so they know what it takes to build a garage door that lasts. 
If you'd like to learn more about Martin Doors in Nampa, ID, we'd love to help! Contact Haney Door Service for a free consultation on new garage door installation near you.
Martin Garage Door Selections
Elite Collection
The Martin Doors Elite Collection offers a versatile range of new garage doors in aluminum, steel, faux wood, and copper materials. From five residential door lines built with quality and durability in mind, every product from this collection is sure to boost your curb appeal.
Athena
The Athena is a full-view glass garage door constructed of heavy-duty steel or aluminum to give you a new garage door that is both beautiful and durable. Its low maintenance upkeep, gorgeous design, and versatile customizations make the Athena a leading choice for glass garage doors in Nampa, ID.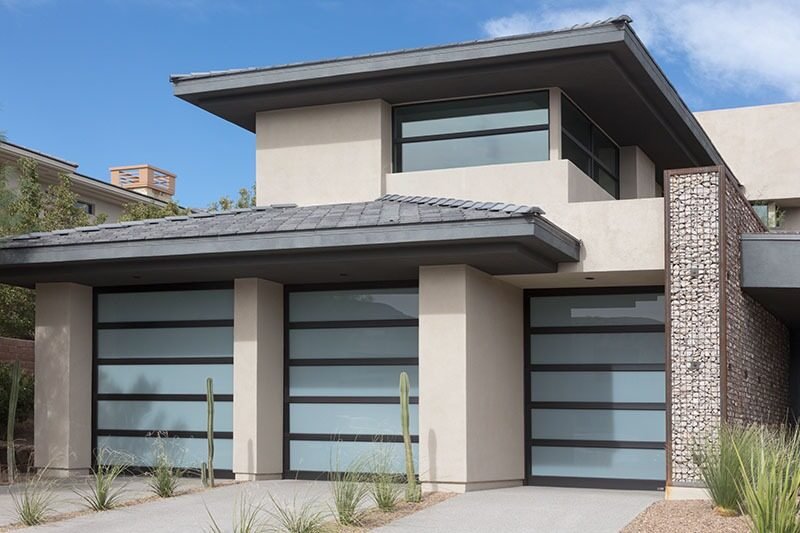 Pinnacle Aluminum
The Pinnacle Aluminum is an excellent choice for homeowners who love the look of carriage wood garage doors but don't want to worry about the upkeep. You can choose from multiple short and long recessed panel designs, then complete the look with a painted, anodized, or powder-coated finish.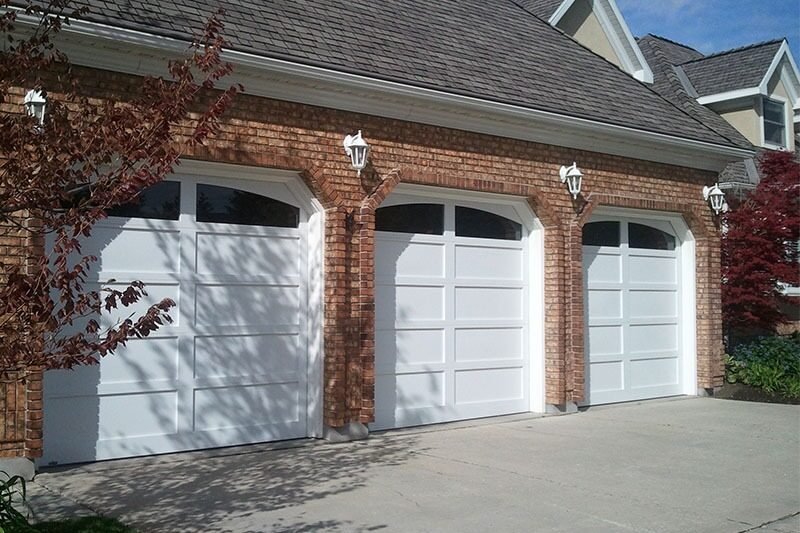 Pinnacle Steel
If you prefer greater strength and durability but love the look of carriage doors, Martin Doors also offers a Pinnacle Steel collection. These steel garage doors are available in the standard recessed panel designs as well as a barn-style X design or ribbed panels. Just like the Pinnacle Aluminum, you can then select your finish from multiple paint or powder-coated options.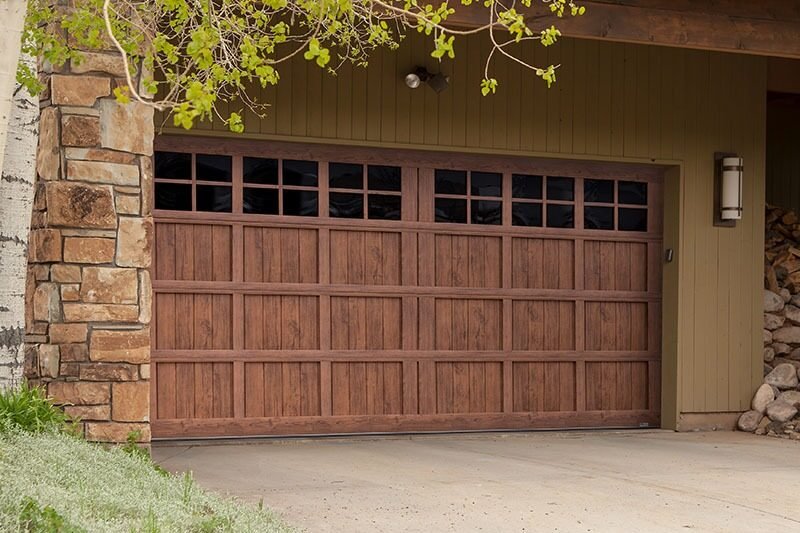 Chalet
The Martin Chalet truly gives you the best of both worlds with a full wood composite overlay on a steel base. It features the unbeatable beauty of wood combined with the strength and low maintenance of steel. Available in seven wood stains and two wood species, you get to design the best wood-look garage door to complement your home. You can also select from numerous unique panel designs.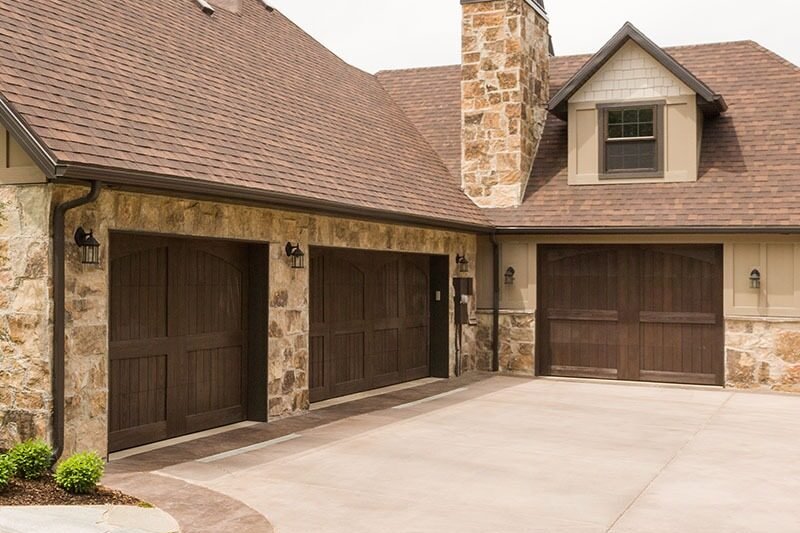 Copper
If you're in the market for a truly unique garage door, consider the Martin Copper. This garage door is made from the purest copper, creating a distinctive look that is sure to make your home stand out. It is available in five panel designs including long, short, grooved, ribbed, and flush.
Premium Collection
Cornerstone
The Martin Cornerstone offers every style and color of steel garage doors that you can imagine. The durable, 24-gauge embossed steel construction is available in five panel styles including short, long, grooved, ribbed, and flush. You can also choose your exterior design from six paint colors, three wood grains, and dozens of powder-coated finishes. Finish off your new garage door with your choice of three insulation options to give your garage added energy efficiency and temperature control.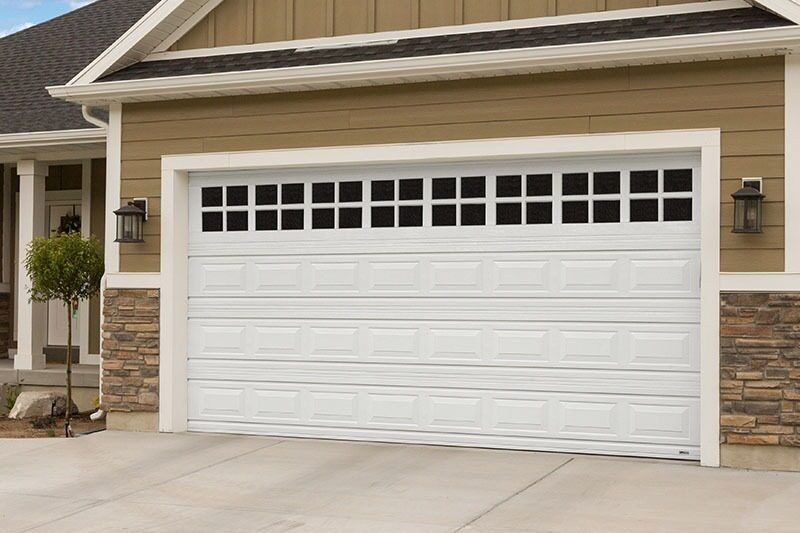 Classic Collection
Martin Standard
The Martin Standard is their most basic model, featuring a White Mist steel finish or one of dozens of powder-coated finishes. You can also choose between long, short, grooved, or ribbed panels to complement the look of your home. Like Martin's other steel garage doors, you can also upgrade the energy efficiency of your garage door with insulation of up to 14 R-value.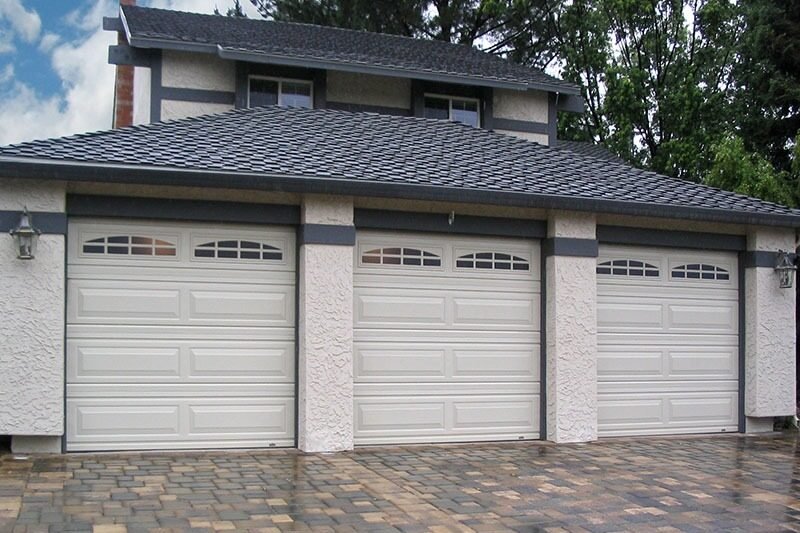 Schedule Service with Our Local Garage Door Company
If you're in the market for new residential doors, contact us! We love partnering with Martin Doors to provide quality products for homeowners near Nampa, ID, and the surrounding areas. We offer garage door installation as well as service and repair work to provide for all of your overhead door needs. Partner with our local garage door company to schedule garage door service today!