Designing Your Modern Garage Door
If you want to design a modern garage door for your home, think simply. Modern garage door styles tend to follow a few rules:
Clean lines
Typically a glass or metal construction
No external hardware
Bold color choices
Simplicity and minimalism are best for modern garage doors because they mimic the look of modern homes. This creates a seamless exterior and incredible curb appeal. Let's discuss popular materials and brands for modern garage doors below so we can help you make the best choice to upgrade your home.
Popular Materials for Modern Garage Doors
Glass & Aluminum Garage Doors
Built with an aluminum frame and glass panels, glass and aluminum garage doors offer a stunning look to upgrade any modern home.
Flush Steel Garage Doors
Flush panels are becoming a popular trend for updating the look of modern and contemporary homes. The seamless exterior and metal construction offer an unbeatable look and great durability.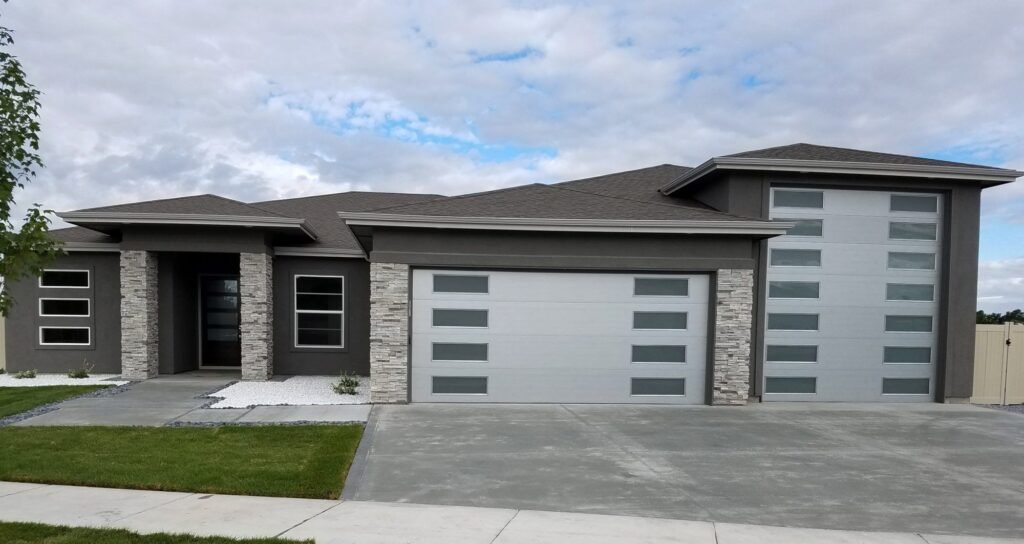 Custom Wood Garage Doors
Modern garage door styles aren't stuck to glass and metal. We also love recommending custom wood garage doors with flush or grooved panels to create a rustic modern look.
Call Now to Learn More About Modern Doors!
Are you ready to explore modern garage door styles in person? Let's set up a new door consultation! We'd be happy to walk you through your material, brand, and customization options so you can design the best new garage door for your home. Contact us to book your appointment today!
Classica Full View
If you're looking for a modern garage door with maximum efficiency and durability, consider the Amarr Classica Full View, which features a polyurethane-insulated steel frame. The steel frame is fitted with large glass windows in every section, allowing for incredible natural light. You can then finish off your new full-view glass garage door design with one of four glass colors and one of 12 exterior colors.
Classica Flush
Flush panels are one of the most popular designs for modern garage doors, and the Classica Flush is one of the best options for this design on the market. Flush panels create a smooth, minimalist exterior to complement a modern home's architecture. Even better, this incredible door can be customized with one of nine window options and eight standard colors or 800+ custom colors.
Vista
You can't beat the look of a classic full-view glass garage door design like the Amarr Vista. This glass garage door has large glass panels with aluminum framing for a sleek finish. The glass and frame are the most customizable from Amarr's collection, with options for glass panels in 11 unique colors and aluminum frame finishes in 32 colors.
Horizon
The Amarr Horizon is our favorite option for unique glass garage doors. The long, narrow glass panels offer a streamlined design to maximize natural light. This incredible modern glass garage door is available in 11 glass colors and 32 frame finishes, broadly customizable to your home's design.
Athena
The Martin Athena is a full-view glass garage door constructed with a heavy-duty steel or aluminum frame. This stunning new garage door is both beautiful and durable. Glass garage doors are also easy to maintain, fun to design, and offer versatile customizations to match your home. We love recommending the Athena as a leading choice for glass garage doors in Nampa, ID.
Cornerstone Flush or Ribbed
The Martin Cornerstone is an incredibly beautiful and versatile garage door available in every style and color of steel garage door that you can imagine. You can design your door from two modern panel designs – flush or ribbed – to create a fresh, contemporary exterior. You can then finish off the exterior look with one of six paint colors, three wood grains, or dozens of powder-coated finishes.