Why Invest in Custom Wood Doors?
Wood garage doors are the ultimate statement piece to complement any home, whether it's traditional or contemporary. Custom wood doors have a warm, natural beauty that is sure to boost your home's curb appeal and value.
The best part about wood garage doors is how they can be customized to match your home perfectly. Customization options include wood species, finishes, and hardware, allowing you to create a door that is completely unique. In fact, wood doors are custom-built to your specifications based on a picture or drawing, allowing us to perfect each detail so your new doors match your exact vision. If you're ready to start designing your custom wood doors, Haney Door Service is here to help! Contact us for new garage doors near Nampa, ID, and we'll set up your new door consultation.
Looking for Custom Wood Doors Near Nampa, ID?
Consider a wood garage door if you're in the market for a custom garage door. We can build your door to your exact specifications in design and construction. We take precise measurements to ensure that the door fits perfectly in your garage. Our attention to detail ensures that your custom wood door meets and exceeds your expectations. If you're looking for a garage door company in Nampa, ID that guarantees high-quality results, Haney Door Service is your best bet. We're excited to serve your home soon!
Our Favorite Wood Garage Doors: Amarr By Design
The Amarr By Design collection allows you to design and customize your new garage doors from scratch. We'll help you create a beautiful, unique product from Amarr's twelve door styles, four wood grains, fourteen window options, and four decorative hardware varieties. Your new custom wood doors will be a stunning curb appeal boost that will adorn your home for many years to come! Contact us, and we'll help begin the journey toward designing your new garage doors today.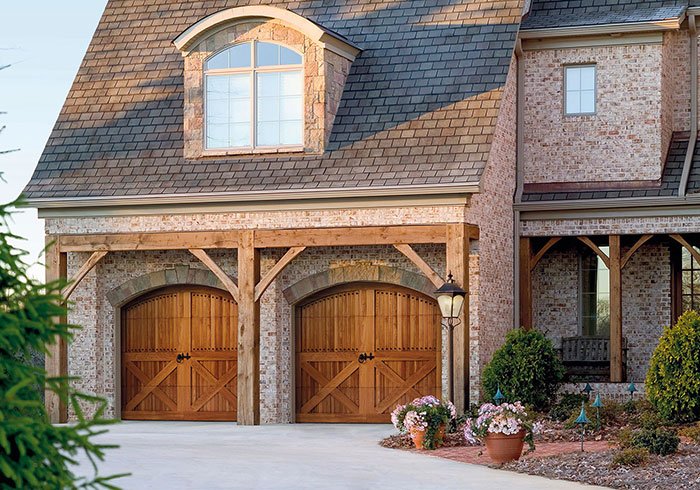 Frequently Asked Questions
Do wood garage doors require a lot of maintenance?
Compared to steel or glass, wood garage doors do require more maintenance to stay in the best shape. Because wood is prone to moisture and pest damage, wood doors need to be resealed every few years. Because wood doors are especially heavy, they also put more strain on your garage door parts, meaning you may need replacement parts more frequently. Although wood garage doors are an investment, homeowners find them worth the value for the incredible curb appeal boost.
What is a faux wood garage door?
A faux wood garage door is a steel garage door that has a wood finish and appearance but is not actually made of wood. It is an excellent choice because it is more affordable and requires less maintenance than real wood.
How long do custom wood doors last?
Wooden garage doors have an impressive lifespan, lasting for 30 years or more. However, to ensure that your door lasts this long, you have to keep up with maintenance. Upkeep includes refinishing the door, checking for any signs of rot or pest damage, and promptly replacing any damaged sections.
Are wood garage doors durable?
When it comes to the durability of wood doors, there's a complicated answer. Unlike steel or aluminum doors, wood doors are resistant to denting and scratching, making them ideal for households with young children or sports enthusiasts. However, wood doors are more susceptible to environmental factors, such as moisture and pests, which can negatively impact their lifespan if not properly maintained. To ensure your wood door maintains its durability, it's important to keep an eye out for signs of rotting or termite damage and take preventative measures as soon as possible.