Glass Garage Door Installation in Nampa, ID
Are you in the market for a new garage door and want an option that will make your home stand out? Consider full-view glass garage doors! These modern garage doors welcome plenty of natural light into your garage, transforming it into a warm, bright space. Even better, glass doors boost your curb appeal and the value of your home.
When you're ready to explore glass garage doors, Haney Door Service is here to partner with you. We offer glass garage door installation in Nampa, ID, and the surrounding areas, ensuring an incredible finished product for every customer. Contact us for more information or to schedule a free consultation!
Common Questions About Glass Garage Doors
How long do glass garage doors last?
Glass garage doors have a similar lifespan to standard steel garage doors, roughly 12-20 years. You can get the best lifespan out of your glass garage doors by keeping up with regular maintenance.
What are the benefits of glass garage doors?
Homeowners love glass garage doors because they have style and color versatility, meaning anyone can design the perfect new door for their home. Some of the top benefits of glass garage doors include:
Low maintenance upkeep
Plenty of natural light
Boosted curb appeal
Added home value
Increased street visibility
How much do glass garage doors cost?
The cost of a glass garage door depends on the brand, size, and customization you choose. For example, a single-car, base model glass garage door will likely cost around $2,000. However, large glass garage doors with specialty additions may cost upwards of $10k. Schedule a free consultation and we'll provide a more exact quote for the glass garage door you're imagining.
Can I add insulation to my glass garage doors?
Yes, you can insulate your glass garage door frame and upgrade to insulated glass. This will improve the energy efficiency of your glass garage door and help regulate the internal temperature of your garage.
Ready to Learn More About Glass Garage Doors?
If you're hoping to upgrade the look of your home to fit a more modern design aesthetic, you can't do better than a glass garage door. Haney Door Service would love to assist you with selecting your new door and perform your glass garage door installation near Nampa, ID. Providing top-rated local garage door service is our passion, and we can't wait to put our skills to work for you.
Our Favorite Glass Garage Doors

Amarr Garage Doors
Horizon
The Amarr Horizon is the leading option for Amarr glass garage doors. It features a MultiView design with long, narrow glass panels. Available in 11 glass colors and 32 frame finishes, it is also broadly customizable to your home's design. It is even available with WindPro to give you added durability and strength.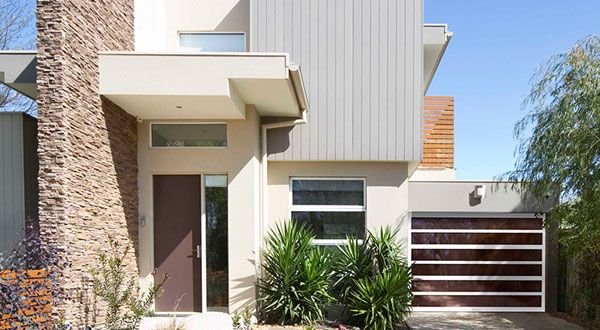 Vista
Built with a classic full-view design, the Amarr Vista has large glass panels with aluminum framing. The Vista is the most customizable glass garage door with options for glass panels in 11 unique colors. You can also select aluminum, perforated, or louvered panels for a more unique look. Finally, you can complete the design of your new glass garage door with one of 32 frame colors.
Classica Full View
Most glass garage doors are constructed with aluminum framing, but the Amarr Classica Full View features a polyurethane insulated steel frame for maximum energy efficiency and durability. The large glass windows in every section of the door allow for incredible natural light. You can finish off your new full-view glass garage door design with one of four glass colors and one of 12 exterior colors.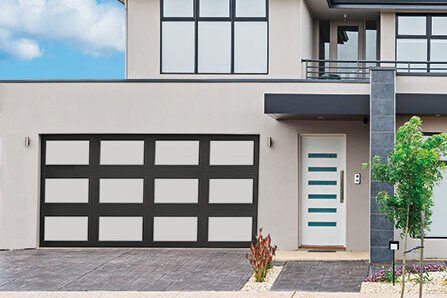 Martin Garage Doors
Athena
The Martin Athena gives you all the design versatility you could possibly want from a glass garage door. It has options for three panel styles, five glass colors, and various exterior finishes including paint, faux wood, powder-coating, and anodized aluminum. It can also be constructed from heavy-duty steel or aluminum to ensure the longevity and durability of your garage door.