Insulated Garage Doors Nampa, ID
Ready for garage door replacement but not sure what your best options are? Consider an insulated garage door! Garage doors with insulation offer many incredible benefits to upgrade the comfort and energy efficiency of your home. Plus, their durable construction makes them reliable and long-lasting.
Learn more about your options for insulated garage doors by contacting Haney Door Service! We've been installing, repairing, and servicing garage doors in the Nampa, ID area for over 30 years. We'd love to help you make the best choice for upgrading your garage door system.
Why Invest in an Insulated Garage Door?
Increased Energy Efficiency
Many homeowners look for opportunities to increase their home's energy efficiency, reducing heat and cooling costs. An insulated garage door is a great way to increase your home's energy efficiency because your garage – as a large opening – allows heat and cooling to escape. However, an insulated garage door helps prevent the loss of conditioned air, meaning your home doesn't have to work as hard to maintain a comfortable temperature.
Temperature Control
Whether you want to turn your garage into a home office or just want it to be at a more comfortable temperature in the morning, insulated garage doors are great for temperature control. By allowing less hot or cold air into your garage from outside, garage door insulation gives you a comfortable space to work out or complete projects.
Noise Reduction
Did you know insulation gives you a much quieter garage door? Where the steel sections on non-insulated garage doors rattle and shake, insulated garage doors operate smoothly and quietly. This benefit is especially important if you have a room above or beside the garage.
Added Durability
Non-insulated garage doors are a single layer of steel, meaning they have no support to hold up against dents and dings. However, insulated garage doors have the added durability of insulation. A stronger garage door means fewer repairs and dents, and improved longevity overall.
Ready to Explore Insulated Garage Doors?
Convinced that insulated garage doors are the best choice to upgrade the energy efficiency and durability of your garage door system? Contact Haney Door Service to book a free new garage door consultation and learn more! Our leading brands – Amarr, Northwest, and Martin – have great options to upgrade your home with insulated garage doors.
Give us a call! Our garage door experts are ready to answer your questions today.
Types of Garage Door Insulation
Polystyrene
Polystyrene insulation consists of foam boards. These are either exposed on the back of a two-layer insulated garage door or sandwiched between two layers of steel for a three-layer door. Although the more affordable option when it comes to insulated garage doors, polystyrene does not carry the same level of energy efficiency and durability as polyurethane.
Polyurethane
Polyurethane insulation is a high-density foam that is sprayed between the two layers of a steel garage door, hardening into a solid. Because it is sprayed into the door's interior, molding to every surface, it makes the garage door more durable, absorbs more vibrations, and is more energy efficient compared to polystyrene insulation.
Options Available for Insulated Garage Doors
Single-Layer
One layer of steel – Non-insulated garage doors offer the best affordability but are not as durable or long-lasting as insulated garage doors.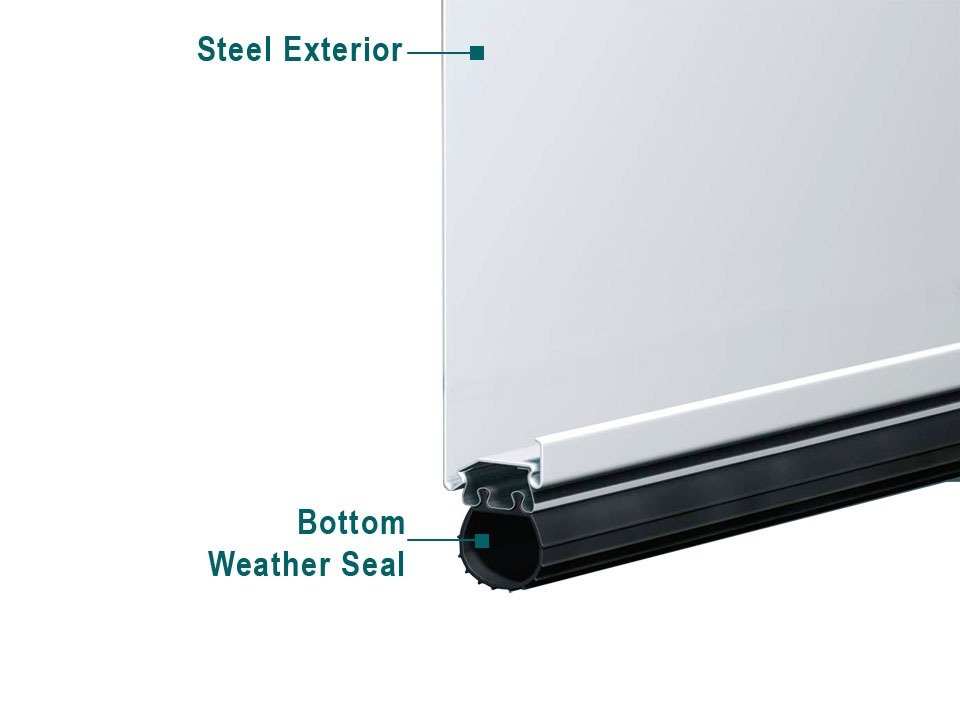 Double-Layer
Steel exterior and one layer of exposed insulation – Double-layer garage doors offer an added layer of protection with exposed polystyrene insulation.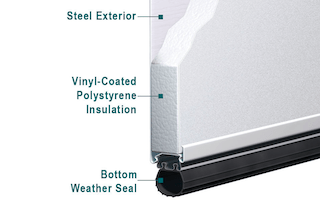 Three-Layer
Insulation sandwiched between two layers of steel – Three-layer garage doors offer the best energy efficiency because the insulation is sealed between two layers of steel.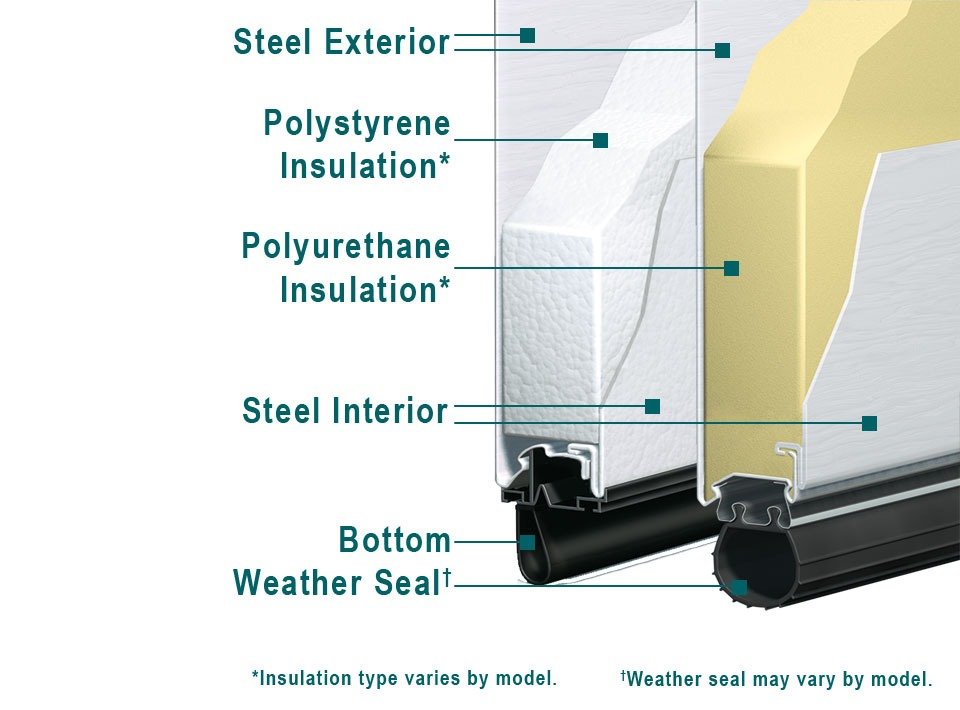 Four-Layer
Front overlay plus insulation sandwiched between two layers of steel – Four-layer garage doors have all the benefits of a three-layer insulated door with a decorative overlay on the exterior.