With summer just around the corner, you may be looking for new ways to transform your home into a comfortable oasis to enjoy the warm weather. Have you considered how glass garage doors can improve the look and comfort of your home this summer? Read below to learn more about glass garage doors and their many benefits!
What are Glass Garage Doors?
Glass garage doors are one of the leading options for modern garage doors. They feature an aluminum frame with full-view glass panels, allowing unbeatable natural light into your garage and transforming the look of your home. All major garage door manufacturers — including Amarr, Northwest, and Martin — offer beautiful, long-lasting options for glass garage doors.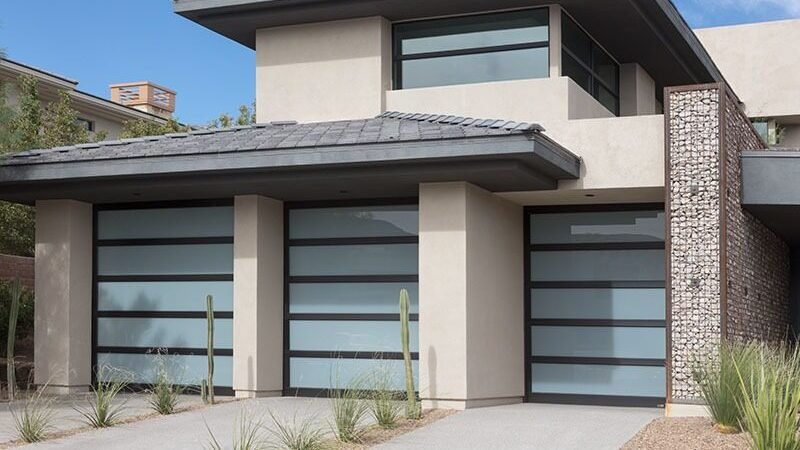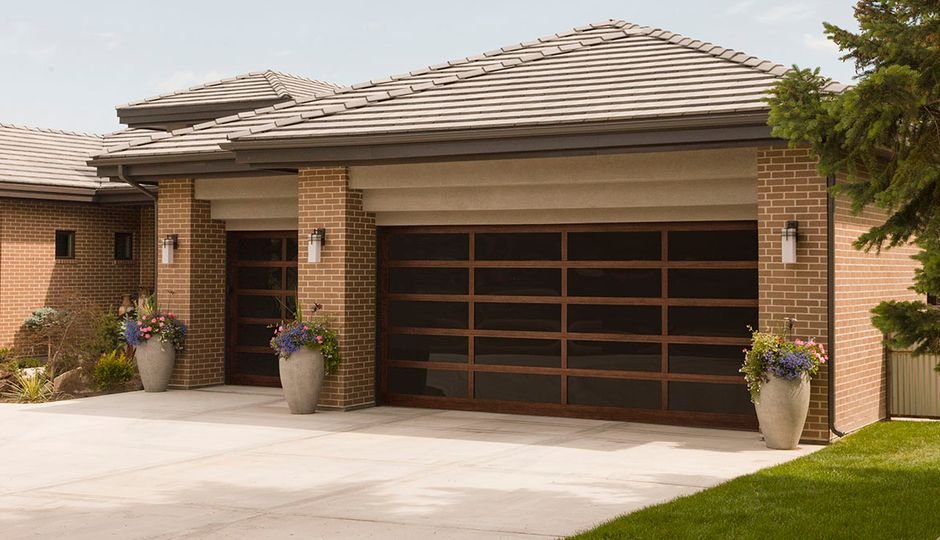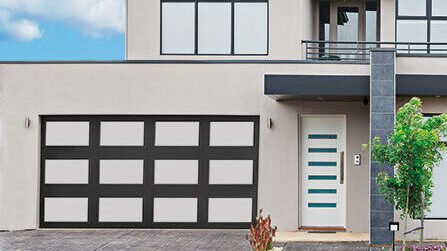 Options for Glass Garage Doors
The aluminum garage door frame is available in anodized aluminum (black, dark bronze, or clear), powder-coating (virtually any color), or faux wood. This finish versatility allows homeowners to design a glass garage door that complements the exterior of any home, whether it is minimalist contemporary or bold modern.
The broad range of design customizations comes from your glass finish options. There are dozens available depending on the needs of your home. For better durability and energy efficiency, we recommend insulated, Low-E, or impact-rated glass. The cosmetic glass options include frosted, tinted, mirrored, etched, or colored glass. You can also select the thickness of your glass from the standard ⅛ inch up to one inch.
Benefits of Glass Garage Doors
Decay, Moisture, and Pest Resistant
You don't have to worry about decay, moisture damage, or pests with a glass garage door's aluminum frame and full-view glass panels. This means you'll be able to enjoy your glass garage door for many years.
Unbeatable Natural Light
The primary selling point for glass garage doors is their unbeatable natural light. With full-view glass panels making up the entire frame, you welcome incredible light into your garage. This makes it easy to transform the space into an at-home gym, studio, or office.
Highly Customizable Design
One of the best features of glass garage doors is their highly customizable design. From frame finishes in powder-coating, anodized aluminum, or faux wood to tinted, etched, or colored glass, your glass garage door design is entirely up to you.
Low Maintenance
Because the aluminum frame and glass panels are naturally moisture and pest resistant, you don't have to worry about maintenance as you do with a wood garage door. This low-maintenance garage door just needs a wash every few months and general parts maintenance for the interior.
Incredible Curb Appeal
Homeowners love glass garage doors because they provide an incredible curb appeal boost, transforming the look of modern and contemporary homes.

4 Ways Glass Garage Doors Can Improve Your Summer
Turn Your Garage into a Patio
Garage doors aren't just for cars and tools anymore! Many homeowners are turning their garages into outdoor living spaces with glass garage doors. The full-view glass panels act as a movable wall of windows, allowing plenty of natural light into the garage while keeping out bugs. This allows you to turn your garage into a patio, studio, gym, office, and more. Add some comfortable chairs or couches, a mini fridge, and even a TV, then the summer transformation will be complete.
Take in the Views
Full-view glass garage doors allow you an unobstructed view of the beautiful summer sun. Whether you want to enjoy the natural views surrounding your home or be able to watch your kids play outside while enjoying the A/C, glass garage doors make it possible.
Enjoy Natural Light without the Heat
While we all love getting extra sunlight and vitamin D during the summer, the heat can be too much sometimes. That is why glass garage doors are a great solution for your summer relaxation plans. They allow plenty of natural light into your garage without all the heat. You can also invest in Low-E glass or insulated glass to make your garage even more comfortable, even during the hottest summer days.
Save on Energy Costs
Because glass garage doors naturally light your garage, you'll save on energy costs during the summer, especially with so many hours of daylight. This makes full-view glass garage doors more energy-efficient and environmentally friendly than most garage doors.
Learn More About Glass Garage Doors
Now that you've heard the many great benefits of glass garage doors and learned the ways they can improve your summer, are you ready to take the plunge? If so, Haney Door Service would love to help you with glass garage door installation in Nampa, ID, and the surrounding areas. We work with leading garage door manufacturers to provide quality products and our technicians are broadly trained to deliver great results for your installation.
Contact us for a free consultation! We will walk you through your options for new glass garage doors, provide free quotes, and help you design the glass garage door of your dreams.